(and Lived to Tell the Tale)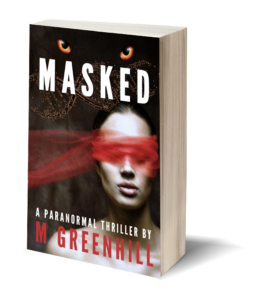 Based in New Zealand, M. N. J. Greenhill is as mysterious and elusive as the paranormal characters in her stories. If you've never heard her name that might be because you're yet to explore Wattpad, a website where people can read novels from up and coming writers, for free. The readership is devoted, and staggering in size. Greenhill's novel Masked has been viewed 2.1 million times, which would put her at the top of every bestselling list there is, in a traditional publishing setting.
I didn't discover the size of Greenhill's readership until after I'd edited her work, but when the truth was finally revealed I knew I had to find out more. With 45 million unique global visitors per month and an average of 30 minutes of reading per visit, it's clear Wattpad is playing a role in unveiling the next generation of writers.
In Greenhill's words, "I stumbled onto Wattpad around two years ago, as one of the millions of readers on the site. It didn't occur to me to post my own work until my husband and son encouraged me to." Over the next three months, Greenhill uploaded one or two chapters per week. Once the first draft was complete, she discovered she had a manuscript in excess of 130,000 words. What was more astounding was that along the way she had picked up more fans than she ever could have imagined.
Beta Readers, Anyone?
The current statistics show that for every writer on Wattpad there are ten readers, which are pretty decent odds for exposure. The site is geared towards younger readers (think YA and NA) and similar to a book store; you browse through the shelves, reading the blurb and taking a peek at the first chapter. You can start reading right away, or shelve a book for later. The best part is that—unlike platforms like Kindle Unlimited—authors have access to that invaluable user data. As Greenhill says, "For each of my books I know where I potentially lose readers; which chapters worked best, and the percentage of people starting a chapter who actually finish it. I get to see if my work appeals to a wide audience, not only by age, but across borders.
The best part is that—unlike platforms like Kindle Unlimited—authors have access to that invaluable user data.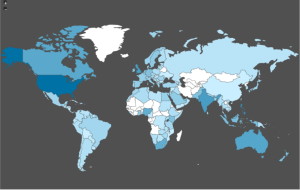 The image above is a world map covering the Wattpad readers for one of Greenhill's stories. As she says, "It humbles me every time I look at it. People, no matter their walk of life or native language, all share a common love of immersing themselves in stories." It also serves to let her know if her story has cross-cultural appeal; invaluable information when it comes to marketing opportunities like geographically-targeted pay per click advertising. In addition to the metric data, readers provide comments and feedback on the story, and while Greenhill says this doesn't offer the depth or breadth of professional critiquing, it can highlight important flaws in the story.
Something to Celebrate
"I can still remember, not long after Masked had started, getting feedback from a reader saying I was her favourite author," Greenhill says. "It wasn't the fact I was her 'favourite' that stood out. It was the very first time I had been called an author. I cannot begin to explain how that one word made me feel.
Writing can be a lonely, thankless pursuit at times, and knowing there are thousands of people waiting to read your next chapter is a pretty great way to stay motivated. A little public validation can be the difference between finishing a novel, and giving up along the way.
It was the very first time I had been called an author. I cannot begin to explain how that one word made me feel.
Greenhill's 4 Top Tips for Wattpad Newbies
If you'd like to give the site a try, our helpful author has put together a few top tips to give your novel an edge against the competition.
Post Regularly: "Wattpad is a serialized platform, so readers understand that your story won't be uploaded all at once. However, to keep a loyal readership base you need to post regularly — once or twice a week at a minimum, and always let your readers know when the next chapter is due."
Chapter Length: "Some writers post 1000 word chapters and others post in excess of 6000 words. The one thing to remember is that the majority of readers will read on a phone and often only for 30-minute stints. The general consensus is that if the chapter is too long, you will lose your audience, too short and the same will occur. On average, my chapters are between 2000 – 3500 words. If it is going to be any longer I will consider breaking the chapter up for Wattpad purposes."
Reader Interaction: "If someone takes the time to message me or leave a comment, I always try and respond. To me, this has been the most rewarding aspect. I get to interact with the people reading my stories and they in turn are more likely to comment further as they feel their feedback is important, which it most definitely is."
Covers Are Key: "The more the cover stands out the more likely it is readers will be tempted to take a look inside. Many of the writers (including myself) makes their own covers. If you don't have the skills, there are quite a few talented people on Wattpad who create covers for free. I suggest checking out the Multimedia Forum and find someone who is willing to help."
Want to see what all the fuss is about? Check out the links below to Greenhill's novels.
Connect with M. N. J. Greenhill at on Wattpad under the user name @MNJGreenhill  You can also reach her at:
Web: www.mnjgreenhill.com
Twitter: @MNJGreenhill
Facebook: /MNJGreenhillAuthor